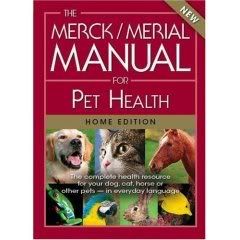 A book that should be in the library of every pet owner and pet lover: The Merck/Merial Manual for Pet Health
is an outstanding resource. Written by veterinarians and animal health specialists, the book is still aimed at the public at large. It's easy to understand and also easy to find information quickly.

The book covers health issues in common and exotic pets, but there are also some unusual and interesting special subjects. I found the chapter on diseases spread from animals to people (zoonoses) fascinating because I like this sort of off the wall stuff.

Merck/Merial Manual for Pet Health is a book I will keep handy and will refer to often for the well being of my pets.