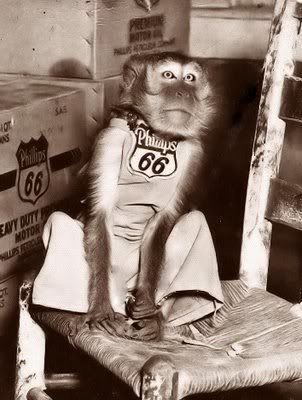 There's a wonderful post at Old Picture of the Day about Junior, who belonged to the author's grandfather.

Junior, acquired because of a practical joke, became a member of the family and an asset in their gas station business.

Junior loved his job, and enjoyed all the attention he got. He got along well with his coworkers, and he never complained about anything. He received excellent marks in all his reviews, and he was named employee of the month on several different occasions. He was never late for work, and always was the first to jump up when a customer drove in. He really was one of the boys down at the station.

Here's another photo of Junior working at the gas station.