March 19, 2009

WINNERS - WINNERS

I have selected Kelly and mandapanda to each receive a free bag.

Could you please email me and let me know the address to send to?

Thanks also to everyone who participated!

*****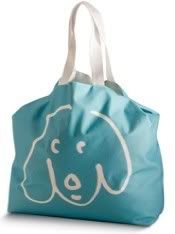 I have two beautiful William Wegman Designer Tote Bags from the Doodle Dog Bag Collection to give away FOR FREE!

The bags are made from Crypton fabric - It is the only textile that offers stain, moisture, mold, mildew, bacteria, and odor-resistant protection coupled with an integrated barrier that ensures nothing will ever penetrate the fabric ... ever.

From a limitless array of fabrics in a limitless array of color and style options, Crypton Super Fabric is just that ... Super!

Cryton makes many pet products with their super fabrics - pet beds, mess mats, throws, vests, coats, and collars.

The bags are very large, they'll certainly hold a lot of stuff. The fabric is so soft and silky feeling, it's great to know that it's also totally water, stain and bacteria resistant.

The bags sell at the Crypton Super Fabrics site for $36.00.

You can win a bag by leaving a comment below ...

just tell me what you'll put in the bag.

Two responses will be chosen and announced on March 19.