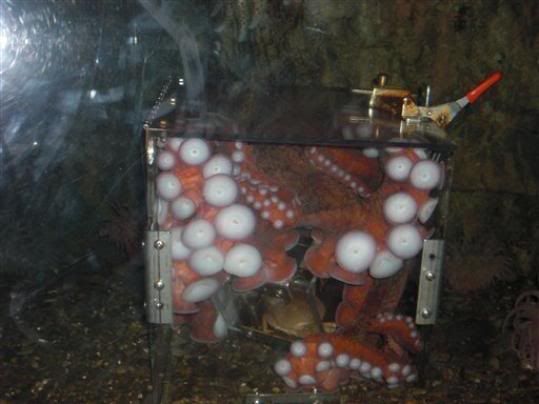 In this photo provided by the New England Aquarium, Truman the octopus is seen squeezed inside an acrylic cube at the New England Aquarium in Boston, Thursday, March 5, 2009. Truman squeezed his flexible frame into the acrylic box while trying to snag a tasty lunch of crabs. He spent about 30 minutes in the box before slithering out, delighting staff and guests who witnessed the spectacle.


In California, the Heal the Bay Santa Monica Pier Aquarium is facing up to $20,000 in damages as a result of a mischievous octopus that flooded the building.

A female California two-spotted octopus swam to the top of her tank, disassembled a valve with her powerful arm, and released at least 200 gallons of seawater into nearby exhibits and offices.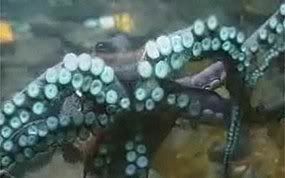 At the Dunedin Aquarium in New Zealand, Sid the octopus, mysteriously vanished from his tank.

Five days later, he was spotted by a staff member making a dash for the door.

Sid had been hiding out in a drain, which pumps fresh sea water into the aquarium.

He was persuaded back into his tank. He was hungry but otherwise OK.

The aquarium's senior aquarist, Matthew Crane, says Sid has done his time and will be freed.

Photo #1 credit: AP Photo/New England Aquarium