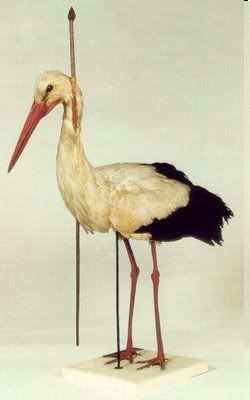 Until the 19th century, the sudden annual disappearance of white storks each fall had been a profound mystery to European bird-watchers.

On May 21, 1822, a stunning piece of evidence came to light, which suggested a less miraculous, if no less wondrous, solution to the quandary of the disappearing birds. A white stork, shot on the Bothmer Estate near Mecklenburg, was discovered with an 80 cm long Central African spear embedded in its neck. The stork had flown the entire migratory journey from its equatorial wintering grounds in this impaled state.

The Arrow-Stork, or Pfeilstorch, can now be found, stuffed, in the Zoological Collection of the University of Rostock. It is not alone. Since 1822, some 25 separate cases of pfeilstorches have been recorded.