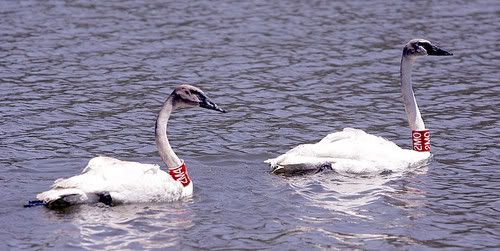 For the first time, a pair of trumpeter swans, the comeback kids of the waterfowl world, was released in Illinois. The last known nest of the rare and stunning swans, the largest native waterfowl species in North America, was recorded in the 1840s near Glenview.

Since then, the story for trumpeters in Illinois mostly has been bleak.

Virtually wiped from the landscape in the late 1800s and early 1900s by hunting and settlement, clusters of trumpeters surfaced in remote mountain valleys of Montana, Idaho and Wyoming in 1919 and 1932. Three years later, the U.S. government established Red Rock Lakes National Wildlife Refuge in Montana and swans from that refuge became the heart of Midwestern restoration in the late 1960s.

Trumpeters are making a robust recovery, particularly in the areas east of the Rocky Mountains, including the Midwest. The latest U.S. Fish and Wildlife Service survey, conducted in 2005, showed the population in these areas at nearly 4,700, or more than 90 percent higher than the estimate five years earlier.

The reason for the rapid growth is that trumpeter-friendly habitat has existed in the Midwest for decades, and once the species was introduced, it adapted and grew swiftly, said Mike Eichholz, assistant zoology professor at Southern Illinois University-Carbondale and the principal investigator on researching trumpeters in that region.

About 400 trumpeters migrate for the winter to southern Illinois from Wisconsin, Michigan and Iowa, Eichholz said.

It remains unclear whether the female trumpeter from Brookfield Zoo and male from Lincoln Park, both of which honked and hissed and struggled until they got into the water, will set up nest-keeping in Johnson-Sauk. But the 55-acre open water with marshes presented an encouraging landscape.