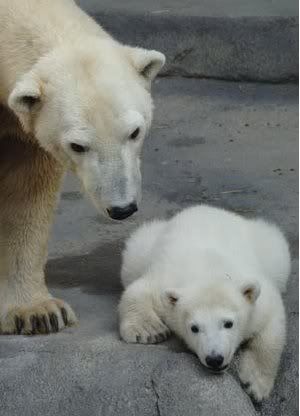 After receiving and reviewing nearly 5,000 name suggestions for the male polar bear cub at Brookfield Zoo, Chicago Zoological Society (CZS) staff have selected a name: Hudson.

The cub, who now weighs just over 70 pounds, can be seen daily with his mom, Arki. Over the past several weeks, zookeepers have been slowly adding water to the bears' pool. By early June, they hope to have it all the way filled so Arki can begin to teach Hudson how to swim.

It is estimated that between 22,000 and 25,000 polar bears live in the wild, although exact numbers are not known in their natural habitat of the circumpolar Arctic: U.S. (Alaska), Canada, Russia, Greenland, and Norway. In February 2005, several conservation organizations petitioned the U.S. Department of the Interior to list polar bears on the "threatened" species list of the Endangered Species Act. In late 2006, the Secretary of the Interior announced that the U.S. Fish & Wildlife Service would be gathering additional information and scientific data during the next 12 months before making its final decision whether to list the species on the threatened list.