We're all familiar with guide dogs for the blind but what about monkeys for quadriplegia and agoraphobia, guide miniature horses, a goat for muscular dystrophy, parrots for psychosis and any number of animals for anxiety, including cats, ferrets, pigs, at least one iguana and a duck?

The Americans With Disabilities Act (A.D.A.) requires that service animals be allowed wherever their owners want to go. But now the United States government is considering a proposal that would force people to give up their nontraditional service animals because a growing number of people think the whole thing has gotten out of control.

Rebecca Skloot, a freelance writer, has done extensive research on this topic. See her post at Culture Dish, and read the article she wrote for New York Times Magazine.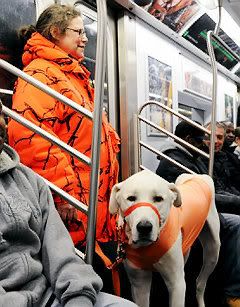 A recent example of this issue is the story of Estelle Stamm, of New York, who claims her 120-pound dog is protection from childhood memories of sex abuse. Stamm won $10,000 from the city after two cops gave her a ticket for bringing the pony-sized dog into a subway station.

Now she's going for $10 million in a federal suit that argues Wargas, her service dog, is protected under the Americans With Disabilities Act.

Transit lawyers have recently taken the position that Stamm - who has been diagnosed with posttraumatic stress disorder and has partial hearing loss - is not really disabled.

Stamm said her stress disorder causes extreme fear of danger, severe depression and confusion. The dog keeps her "in the present," warns her of sirens and horns, and provides a large, furry barrier in crowded places, she said.