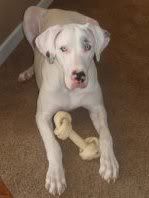 Americans continue spending heavily on their pets even as they have given up restaurant meals, vacations and new cars.

Even though job losses and foreclosures have forced some people to give up their animals, pet-related spending in the United States actually climbed by 5 percent from 2007 to 2008. Industry experts expect the numbers to rise again this year, to a total of $45.4 billion spent on food, supplies, medical care and animal purchases.

Though some consumers have scaled back on products such as accessories, American Pet Products Association President Bob Vetere said many remain choosy about what they feed their pets. The tainted-pet-food scares that killed dozens of animals in 2007 have led many consumers to buy higher-end brands. **

A survey conducted by BIGresearch, a market-research company, shows that 61.2 percent of people surveyed in December said they owned pets, up slightly from 59.4 percent the previous year.

Retail and animal experts say families staying home more may see getting a new pet — particularly one from a shelter — as a relatively low-cost investment that will reap benefits for years.

Source

** Obviously, great news for i-pets.com, where we continue to sell USA manufactured rawhide treats, free of chemicals and additives.

See what our happy customers say about i-pets.com.