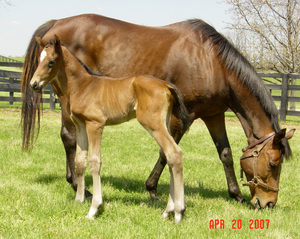 The colt took his first awkward steps away from his stall and out of the barn at Mill Ridge Farm, his back limbs nearly buckling, as a groom helped out with a firm hold on the horse's rear end.

Out in the paddock, the colt, just 10 hours old, looked back to the groom with an expression of: "What now?"

Friday was one glorious day in the Bluegrass, with barely a cloud in the blue skies above Mill Ridge's rolling 1,100 acres. "It's a good day to be born and get turned out," Michael Matz said.

The trainer of last year's Kentucky Derby winner was at Mill Ridge because this was no ordinary newborn. Here was Barbaro's little brother, out to the paddock for the first time with his mother, La Ville Rouge. His foaling today on April 20 - exact time: 2:08 a.m. - had been routine. He's a big boy, 148 pounds.

After just a minute standing in the grassy paddock, the colt was loping alongside La Ville Rouge, who instinctively leaned her head in front of her son, herded him away from a fence, taking him around his first turn.