Chocolatework.com is an informative site for chocolate enthusiasts, providing a reference and idea source for chocolate sculpture, wedding cakes, plated desserts, and pulled sugar work.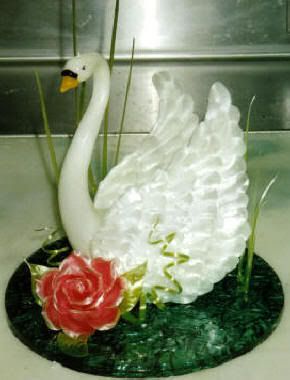 Pulled sugar is a very versatile medium. Finished pieces can be produced quickly and on short notice. This pulled sugar showpiece swan is produced from blown sugar. The base is made of poured sugar that has been cast onto foil, which may be left on or removed after the sugar has cooled for a different effect.

The body of the swan is the blown sugar portion. The wings are formed from a pulled sugar base and then covered with individual pulled sugar feathers. The grass may be made from pulled sugar as well but it is made stronger if air is first blown into it. A pulled sugar rose finishes the sugar centerpiece.