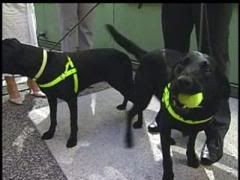 Lucky and Flo are touted as the latest weapons in the fight against movie piracy. They were trained after a study in 2004 determined that dogs could be used to detect polycarbonate and other chemicals used in optical discs. Neil Powell, a trainer in Northern Ireland known for training dogs to sniff bombs and other devices, trained the two animals.

They are believed to be the first DVD-sniffing dogs in the world.

Lucky and Flo, the Motion Picture Association's DVD-sniffing black Labrador retrievers, led investigators to an estimated 100,000 pirated movie and computer games DVDs hidden in secret storage compartments in shops and a warehouse in Malaysia last week.

The canine duo also helped Philippines law enforcement officials seize an estimated 300,000 pirated DVDs from three malls in Manila notorious for the sale of pirated movies and music this week. Among the seizures, which had an estimated street value of $500,000, were a significant number of discs containing child pornography.

Officials say that investigators also seized DVDs containing child pornography in Malaysia. The raids, on 11 retail outlets and a warehouse, took place in the same building where the canine duo, with Ministry of Domestic Trade and Consumer Affairs (MDTCA) and Motion Picture Association (MPA) investigators, discovered and seized an estimated one million pirated optical discs infringing movie and computer games titles on 20 March 2007.

Movie pirates placed bounties on the dogs after a DVD ring was busted last month in the south of the country, according to Malaysian media reports.